Thông tin chi tiết
JVC KW-V30BT
DOUBLE-DIN APP-COMPATIBLE AM/FM/CD/DVD/HDMI BLUETOOTH RECEIVER
JVC's KW-V30BT DVD receiver offers an eye-catching 6.1″ variable-color touchscreen display, a built-in DVD/CD player, USB port, built-in Bluetooth®, and lots of settings you can tweak. But, you can take your driving experience to the next level by using its HDMI input to connect select smartphones and tablets and use a variety of apps on the go.
WHAT YOU NEED
The KW-V30BT's HDMI input lets you enjoy access to many of the apps on your smartphone or tablet directly from the controls on the receiver. Here's the lowdown on what you need depending on your smartphone:
iPhone® 5, 5C, and 5S: You'll need to connect the Apple Lightning™ to USB cable and an HDMI cable (sold separately) to Apple's Lightning Digital AV adapter. Working with the iPhone 5's Bluetooth, you'll be able to mirror and control select apps on the KW-V30BT's touchscreen display. Optionally, you may want to use a Lightning cable extender to give yourself more flexibility for phone location.
iPhone 4 and 4S: Connect your iPhone 4 or 4S to the KW-V30BT's rear USB and analog audio/video input using the JVC KS-U59 cable (available soon), and you'll have access to JVC's App Link Mode.
Select MHL-enabled Android® phones: Once you download the JVC Control app on your phone, you'll connect your Android to the JVC receiver with an HDMI/MHL cable, such as the JVC KS-U61 (available soon). After pairing your Android phone with this JVC, you'll get app control on the touchscreen display.
With your smartphone connected, you can enjoy select navigation, driver assistance, video, and music apps — all of which can be controlled on the KW-V30BT's display or by voice command.

SOUND AND VISION
You can customize the KW-V30BT's touchscreen layout and set the display colors that best suit your dash. JVC's touch control lets you run your entertainment system with a few swipes to scroll through music folders, skip songs, and adjust the volume. JVC also included some easy-to-find button controls and a volume knob, so you can concentrate on the road.
Once you've got the music you want, you can tweak it with the built-in 3-band parametric equalizer. If you're adding amps, you'll appreciate the three sets of 4-volt preamp outputs for super-clean audio.
BLUETOOTH
Bluetooth gives you hands-free calling convenience, plus a wireless connection to the songs stored on your compatible music player. If you're an Android user, you'll really appreciate this receiver's Secure Simple Pairing (SSP) technology. JVC includes an external Bluetooth microphone which you can place in a good spot in your vehicle for superior hands-free communication.
And if you have an iPhone with Siri, the KW-V30BT supports Siri Eyes Free through Bluetooth, which means you can ask Siri to make calls, select and play music, compose and hear text messages, read notifications, even use maps and get directions — all commanded by your voice through the receiver. This convenient feature can make your drive safer and more productive.
PANDORA – IHEART RADIO – SIRIUS/XM
If you enjoy Internet radio on your iPhone or Android, you'll really enjoy playing music from Pandora® and iHeartRadio® on this versatile receiver. You can scroll through your stations, bookmark songs, and give a thumbs-up or thumbs-down right from the receiver's face.
Apple apps: Pandora / iHeartRadio Auto
Android Apps: Pandora / iHeartRadio Auto
The AM/FM tuner includes the Radio Data System (RDS), so you get artist, song, and station info on the display. You can also take your radio experience to next step by adding the compatible SiriusXM tuner, so you can get the latest news, talk, and music from your favorite satellite radio stations wherever you drive. If you want to listen to Sirius/XM while navigating from your phone, you will need the Sirius/XM app ($4 extra per month).
Apple app: Sirius/XM Internet radio
Android app: Sirius/XM Internet radio
VIDEO
Use the rear analog audio/video inputs to hook up your favorite portable audio player, a camcorder, or another video source. This receiver boasts an audio/video output to send movies to a rear video screen, so your passengers will stay happy during the longest road trips. And, the KW-V30BT's dual zone capability means the kids can watch a movie in the back with headphones while you listen to your favorite music up front. If you've got a big vehicle, you'll appreciate the input for a rear-view camera — helpful for when you're maneuvering your vehicle in tight spaces.
HIGHLIGHTS:
GENERAL FEATURES:
DVD/CD player with AM/FM tuner
built-in amplifier (22 watts RMS/50 peak x 4 channels)
6.1″ touchscreen display
built-in Bluetooth for hands-free calling and music streaming
variable color illumination with over 30,000 choices of colors
fits double-DIN (4″ tall) dash openings
remote control
SMARTPHONE FEATURES:
display and command of select music, navigation, and other apps with iPhone and Android
Pandora and iHeartRadio control with iPhone and Android
Siri Eyes Free control for select iPhones
Voice Command for select Android smartphones
AUDIO/VISUAL FEATURES:
plays CDs, DVDs, and USB memory devices
iEQ with 7 presets and 3-band parametric EQ
high- and low-pass filters
dual-zone audio
EXPANDABILITY:
built-in iPod, iPhone, and iPad control
compatible with SiriusXM satellite radio tuner
inputs: front aux input, rear USB input, rear HDMI digital A/V input, rear analog A/V input, rear-view camera input
outputs: A/V output, 6-channel preamp outputs (4-volt front, rear, sub)
SMARTPHONE CONTROL:
The JVC KW-V30BT & KW-V50BT Smartphone Receivers require specific cabling, adaptors, firmware and apps to run. Please consult the following resources to insure your phone will be supported so you will able to enjoy the advanced features of your JVC receiver.
Apple:
Apple iPhone 5 & 6 require an HDMI cable (PROVIDED WITH LOCAL INSTALLATION) as well as an Apple HDMI to Lightning adaptor (NOT PROVIDED) in order to use Smartphone Features.
Android:
Please consult the information below to insure your Android device is a "known good" device prior to ordering. ADC Mobile does not guarantee connectivity or operation on other devices not listed.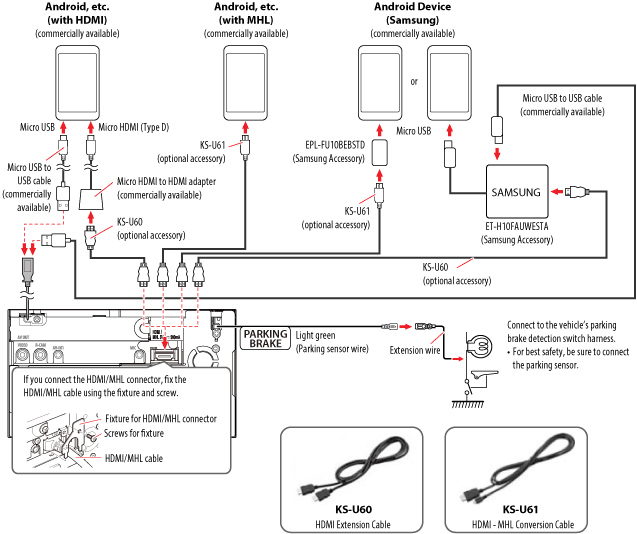 Android Connectivity Chart
Android Device must have below system requirements in order to use the "JVC Smartphone Control" function.
Android™ 4.1 and above
Bluetooth® SPP (Serial Port Profile) and HID (Human Interface Device) Profile
MHL or HDMI Output
Not all Android Devices are compatible with the "JVC Smartphone Control" function, even if the above system requirements are met.
Please refer to the following list of the compatible devices.
| Manufacturer | Model | Android Version | Connection Type |
| --- | --- | --- | --- |
| HTC | One Max | 4.4.2 | MHL |
| LG | Optimus GJ (E975W) | 4.1.2 | MHL |
| Samsung | GALAXY S III (SC-06D) | 4.1.2 | Samsung Adapter* |
| Samsung | Galaxy S4 (GT-I9500) | 4.3 | Samsung Adapter* |
| Samsung | Galaxy Note II (N7100) | 4.1.2 | Samsung Adapter* |
| Sharp | AQUOS PHONE ZETA (SH-06E) | 4.2.2 | MHL |
| Sony | Xperia Z | 4.2.2 | MHL |
| Sony | Xperia Z1 | 4.2.2 | MHL |
| Sony | Xperia ZR | 4.2.2 | MHL |
| Sony | Xperia ZL | 4.2.2 | MHL |
| Sony | Xperia A (SO-04E) | 4.1.2, 4.2.2 | MHL |
| Sony | Xperia Z1f (SO-02F) | 4.2.2 | MHL |
| Sony | Xperia UL (SOL22) | 4.2.2 | MHL |
*Samsung adapter (EPL-FU10BEBSTD or ET-H10FAUWESTA) is required (sold separately).
EPL-FU10BEBSTD: Additionally requires JVC HDMI – MHL Conversion Cable "KS-U61" (sold separately).
ET-H10FAUWESTA: Additionally requires JVC HDMI Extension Cable "KS-U60" (sold separately).
Visit www.samsung.com for information regarding your nearest authorized Samsung dealer.

JVC Smartphone Control App
Sản phẩm cùng loại